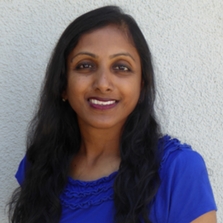 Keerthi Golla, DMD
Pediatric Specialist
I am so delighted to be a part of this incredible team. Being part of this dental office is a such a joy. I grew up on the east coast and completed my dental school there. We moved to the Monterey Bay area about six years ago and have truly loved being here. We're looking forward to enjoying the weather here for a long time to come.
I attended college at University of Pennsylvania and received a Doctor of Dental Medicine degree at the University of Medicine and Dentistry of New Jersey. I then went on to complete a residency in general dentistry at the University of Illinois at Chicago. After graduating and practicing general dentistry, I discovered I loved working with and treating children. I completed a residency in pediatric dentistry at Maimonides Medical Center in Brooklyn.
As a pediatric dentist, it is my passion to help children cultivate a lifetime of great oral health. This begins by establishing a dental home during your child's first visit. I love being there to watch these children grow and develop into these amazing people. It is fulfilling to me to help them develop great oral care and ease their anxiety during dental visits.
I have two girls (6-year-old twins) who keep life entertaining as well as very busy. In my free time, I like to spend time with family and friends, relax and read books or go for a walk, and explore new places and restaurants.
I can't wait to meet you and your child soon!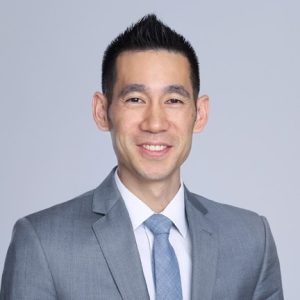 Josh Lin, DDS
Board Certified Pediatric Dentist
Dr. Josh is a Board Certified Diplomate of the American Board of Pediatric Dentistry. As your pediatric dentist, Dr. Josh's goal is to provide your child with the best dental care possible in the most compassionate way. It is his promise to treat each child as he would his own, and he strives to provide each child with positive experiences that build the foundation for a life-long positive dental outlook. Dr. Josh hopes to do this by creating a fun, warm environment that makes children and parents feel cared for and at home.
Dr. Josh grew up in Palo Alto and attended UCLA. After college, he continued his education in dentistry under the bright lights of New York City at the NYU College of Dentistry. He then completed a general practice residency at the prestigious West Los Angeles VA Hospital, where he had the honor and privilege of serving our nation's veterans. Dr. Josh was able to combine his extensive dental training and passion for working with children by completing a pediatric dental residency at UCLA's Ronald Reagan Medical Center, where he also conducted dental research and was published as a first author in Scientific Reports.
After completing his formal training, Dr. Josh practiced in the Upper East Side of Manhattan for three years before deciding to move back to California to be closer to family.
Dr. Josh's hobbies include basketball, video games, pickleball, mixology, smoking meat, gardening and making his children (aged 5 and 2) laugh. He has a calm, friendly demeanor and is a free spirit, always looking for a new adventure.
He is looking forward to a lifetime of learning and fulfillment that a career in pediatric dentistry provides. Dr. Josh would love nothing more than to grow with the families of Almaden Valley Surfside Kids Dental —getting to know you well and to seeing your children grow and thrive with each visit!